2 tags
3 tags
4 tags
2 tags
3 tags
11 tags
Emma
                                        Jane Austen will always remind me of my high school AP English class. Not only did we read Pride and Prejudice along with every other high school in the US, we read Mansfield Park as summer reading. My love for Austen began then, and I promised myself I'd read all of her novels in my lifetime.  Eventually I got around to Sense and Sensibility, which...
4 tags
3 tags
5 Books at Once?!
I just read that Thomas Jefferson invented a book stand that allowed him to read 5 books at one time! Now if only he had invented some contraption that allowed you to read in bed without holding the book and also flipped the pages!                                      
4 tags
Shakespeare for a Year
Hi friends! My good friend Emily is an avid reader, primarily of classics. She recently told me that she created a list of Shakespeare plays she was going to read this year, one per month. I couldn't help but join her! As an aspiring actress (in addition to reading blogger) I don't read enough plays, and thought this would be a good way to get familiar with some Shakespeare I...
3 tags
2 tags
8 tags
The Pilot's Wife
                                             The Pilot's Wife does NOT save the drama for its mama, lemme tell ya! DRAMA DRAMA DRAMA. Drama out the yin yang. Filled to the brim. Imagine that really juicy cat fight that happened your junior year of high school… got it? Now multiple that by 12,000. SO MUCH DRAMA. However, this is one of those rare books that not only gets you with the...
5 tags
6 tags
7 tags
Book v. Film - The Girl with the Dragon Tattoo
I've never enjoyed watching movies that much. Every once in a while I'm in the mood, but over all I'd much rather read for entertainment. That's probably pretty obvious given the content of this blog. I'm not even that interested in seeing book adaptations in film. 99% of the time I like the book better, and 50% of the time the poorly executed movie diminishes my...
3 tags
4 tags
7 tags
The Poisonwood Bible
                                                                 Once every year or so I encounter a book that entrances me from its first sentence. The Poisonwood Bible is one of those books. Author Barbara Kingsolver tells the epic tale of the Price family - a mother and four young daughters led by their zealous, Baptist missionary father into the heart of the Belgian Congo in the 1959....
3 tags
8 tags
A Good Old-Fashioned Library
As a new college grad I've spent my fair share of time in the library. My college's is super high tech and brand spanking new, and in addition to studying and research, I've also taken advantage of their solid popular reading collection. I think since the William H. Hannon Library is primarily utilized by students cramming for tests, people don't think to look for their...
6 tags
Watch
I've never read Les Miserables, but I have seen the musical. I'm a little worried about the quality of the singing, but I will see it nonetheless! 
6 tags
50 Shades of Grey
I hopped aboard the 50 Shades of Grey train hesitantly, but hey, what else are you going to read poolside over a weekend in Vegas? Not Hemingway. Apparently I wasn't the only one of this mindset… I spied three other women reading it on my short ventures to and from the bar/pool. I can say that the novel followed a sort of bell curve shape. The first third was a major snooze fest,...
1 tag
1 tag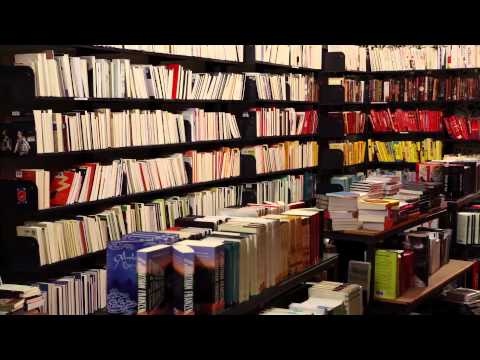 1 tag
1 tag
1 tag
1 tag
7 tags
Extremely Loud and Incredibly Close!
Oh hey, friends! After a nice, long winter break hiatus, MacKenzie Rae Reads is back in action! I'll admit I was entirely poor at keeping up my blog over the holidays, but I was an EXTREMELY successful reader, so that should count for something, yeah? Lots of new reviews headed your way. Promise. Here's one of Jonathan Safran Foer's Extremely Loud and Incredibly Close. I'd always wanted to read...
1 tag
3 tags
1 tag
3 tags
3 tags
3 tags
The Pillars of the Earth: READ IT!
                                       Hello friends!  I'm writing to RAVE about a book I have been raving about ever since I read it last Christmas Break. And when I say RAVE, I mean RAVE. If you could only read one book this holiday season, or this year, or for the rest of your life (a bit extreme, I realize), it should be…  …drum roll, please… THE PILLARS OF THE EARTH by Ken Follett Now, I...
2 tags
2 tags
1 tag
2 tags
?
Alright friends… It's getting to be that time of year when Thanksgiving Break (yay!) and Christmas Break (bigger yay!!!) are approaching! This is a BIG reading time for me, as I'm not so swamped with school work. SO I'm going to start a list of all the books I'm going to attempt to read in my upcoming free time! That's where you come in… WHAT SHOULD I...
4 tags
THOUGHTS FROM FANS! : on Heller and Yossarrian
Thanks to killingcharlemagne for submitting the following thought on Catch 22 and Heller! … There is something in the fall. When minds bend and break. And through the pages of Catch-22 it is apparent. I suppose I understand the emotions when placed in conflict. The thoughts that form and shape experience and you can't help but wander. Finding excuses for actions that in the civil...
1 tag
thethoughtcatalog asked: Have you ever read Catch-22? If you have, is it any good?
apparentlyimadeablog asked: The Curious Incident of the Dog in the Nighttime is a FANTASTIC book, and I completely recommend that you read it immediately. The style in which it was written is unparalleled, providing humor and a new way of looking at the world from the narration of a not-so-normal kid. It's a strange mixture of mystery, wit, irony, and grief -- obviously a great combination in any book. READ IT!
1 tag
1 tag
1 tag
1 tag
?
What literary character makes you swoon? (Twilight-related answers will be mocked and deleted).
2 tags
3 tags
?
Halloween is upon us! SpooOOOOOoooky! ;) What reads left you hiding under the covers?
"All good books have one thing in common - they are truer than if they had really..."
– Ernest Hemingway